Bible Study Commentary in the Book of Esther
Esther Chapter 4: If I Perish I Perish
by I Gordon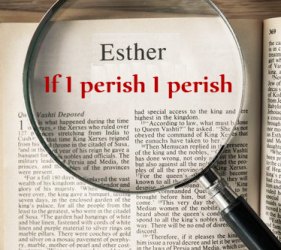 Introduction
In the last study we were introduced to a rather unlovely character by the name of Haman. I don't think I have maligned this man's name for, as we saw in chapter 3 (and in the coming chapters) he does a very good job of that himself! At the end of the last study we saw that Haman was pulling the strings in the kingdom and his puppet, the king, wrote a pretty major decree that suited Haman's purpose just nicely. And what was that purpose? Mmmm, nothing major... just a clearly stated goal of killing all the Jews in the kingdom... a total slaughter of all Jewish men, women and children. Now if you start thinking that you don't really care too much for this man, it is also worth remembering that he is a type of the flesh - that sinful nature that lurks within you and sometimes finds its way out! In this study, we shall examine the depth of the problem a little more for that revelation over who exactly is effectively ruling the kingdom is yet to dawn on the people! We shall also look at what is required of the believer as they deny themselves and follow God's will. Let's go!
One sad decree
Esther 4:1-3 When Mordecai perceived all that was done, Mordecai rent his clothes, and put on sackcloth with ashes, and went out into the midst of the city, and cried with a loud and a bitter cry; (2) And came even before the king's gate: for none might enter into the king's gate clothed with sackcloth. (3) And in every province, whithersoever the king's commandment and his decree came, there was great mourning among the Jews, and fasting, and weeping, and wailing; and many lay in sackcloth and ashes.
So as the decree of the king went forth the result was the same - mourning, weeping and fasting. We need to remember that this is serious stuff! Here was a decree that said that one a particular day death would come to all the Jews living within the Medo-Persian kingdom. We saw last time that as a picture this decree from the king reminds us of the sentence of death that stands over the human race. That decree states of course that 'the soul that sins shall die' and it is not just talking about physical death. There is a 'second death' that scripture warns against which is eternal separation from God. [1] The reaction of Mordecai and his fellow Jews was the correct one once they had learnt of this decree - weeping and fasting. Unfortunately, many in the world turn a blind eye to the thought that a day of judgement is coming. It is easier to carry on living as though that day will never come. But, as I said, the reaction of Mordecai and the Jews is correct. [2]
The problem is within the kingdom
Esther 4:4-8 So Esther's maids and her chamberlains came and told it her. Then was the queen exceedingly grieved; and she sent raiment to clothe Mordecai, and to take away his sackcloth from him: but he received it not. (5) Then called Esther for Hatach, one of the king's chamberlains, whom he had appointed to attend upon her, and gave him a commandment to Mordecai, to know what it was, and why it was. (6) So Hatach went forth to Mordecai unto the street of the city, which was before the king's gate. (7) And Mordecai told him of all that had happened unto him, and of the sum of the money that Haman had promised to pay to the king's treasuries for the Jews, to destroy them. (8) Also he gave him the copy of the writing of the decree that was given at Shushan to destroy them, to shew it unto Esther, and to declare it unto her, and to charge her that she should go in unto the king, to make supplication unto him, and to make request before him for her people.
It is interesting that initially Queen Esther didn't know how bad the problem was! In fact I don't think she even knew of the decree at all. So when she heard of Mordecai wearing sackcloth she wanted to solve the problem by sending him a new set of threads to cheer him up and put a smile back on his dial. Well, new clothes might work for some of us but of course Mordecai would have none of it for he knew the decree and he knew the depth of the problem. So what did he do? He sent a copy of the decree back to Esther and in doing so, showed her that the problem was right in the heart of the throne.
As mentioned earlier, Mordecai is a useful type of the Holy Spirit in this book. It is the job of the Holy Spirit to enlighten the soul of man to the depth of the sin problem. And just as Mordecai instructed Queen Esther about the one who was pulling the strings in the kingdom (namely Haman) so the Holy Spirit shows believers concerning the fleshly nature that dwells and often rules within. There are two problems that face mankind in regards to sin - the penalty of sin and the power of sin. Both are revealed to us through the Holy Spirit and both require some action on our part. Have you sensed the still small voice of the Holy Spirit speaking about the condition of your soul? If you have, Mordecai's instruction to Esther will apply to you now as well. Mordecai knew that if there was to be any deliverance, Esther must first come before the king for he alone has the power in such matters. It is our task to listen to the Holy Spirit and obey His command to go to our king in regards to the sin issue, for only God can deliver from the penalty and power of sin. You cannot defeat the flesh using the power of the flesh. Unfortunately you will try (as will I quite often) for this is a lifelong lesson. Well, let's look at Esther's response.
The Spirit grieved and now quenched
Esther 4:9-11 Hathach went back and reported to Esther what Mordecai had said. (10) Then she instructed him to say to Mordecai, (11) All the king's officials and the people of the royal provinces know that for any man or woman who approaches the king in the inner court without being summoned the king has but one law: that he be put to death. The only exception to this is for the king to extend the gold scepter to him and spare his life. But thirty days have passed since I was called to go to the king.
Esther's response to Mordecai is quick and clear so I'll keep this as short as possible... she says 'No'. She hasn't been called to go before the king and to do so unannounced normally means death. So her answer is 'I'm sorry Mordecai, I cannot do what you ask'. Major Ian Thomas, in his book 'If I Perish, I Perish' points out that this chapter contains a useful picture of the Holy Spirit grieved and now quenched. [3] At the start of the chapter we saw Mordecai (type of the Holy Spirit) grieved - He sat is sack cloth and ashes for Haman (the fleshly nature) was controlling and influencing the decrees in the kingdom for his own wicked schemes. Here however we have a new picture and that is one of the Holy Spirit quenched for Esther will not agree to perform Mordecai's instruction. The New Testament obviously speaks of both of these possibilities in your relationship with the God. [4]
The difference between grieving and quenching is clearly seen in the life of Mordecai. When Haman controls the kingdom the result is hatred, jealousy and death... and Mordecai is grieved. Yet when Esther won't act to carry out Mordecai's instructions then his ability to help in the situation is quenched. It is no different with the Holy Spirit as the two passages in the footnote show us. The context of 'grieving' in the Ephesians passage is 'unwholesome talk, bitterness, wrath, anger...' In other words, all that we see when Haman (the flesh) rules the kingdom. The context of quenching though is instruction to 'rejoice, pray, give thanks and to not despise prophetic utterances.' The result of NOT doing these things will quench the Holy Spirit. That is, it will 'put out, stifle, limit and hinder' the work of the Holy Spirit in your life. And you don't want to do that! So it can be said that grieving the Holy Spirit is doing things that you shouldn't do, where as quenching is not doing what you should do! Well, one thing is for sure... if deliverance is to come, Mordecai (the Holy Spirit) but be obeyed. And that moment of truth is fast approaching for Queen Esther!
For such a time as this!
Esther 4:12-14 When Esther's words were reported to Mordecai, (13) he sent back this answer: "Do not think that because you are in the king's house you alone of all the Jews will escape. (14) For if you remain silent at this time, relief and deliverance for the Jews will arise from another place, but you and your father's family will perish. And who knows but that you have come to royal position for such a time as this?"
The Bible, in Ecclesiastes, says 'there is a time for every event under heaven... A time to be silent and a time to speak.' Esther, through fear, conveniently believed it was a time to do the former... to be silent and do nothing. Mordecai knew that it was a time to speak. So he tells Esther in so many words 'if you remain silent, God will find another way to bring deliverance but don't think that keeping quiet will necessarily save you. Can't you see that God has brought you to this day and this position, for this very time? This is it... This is your moment. Don't miss it!' This is instructive for us for we too have been placed in God given situations for a purpose. [5]
We too get a choice to rise up to the situation in faith or slink back in fear and remain silent. Will we obey the voice of God and speak and act for His glory or remain mute and motionless hoping that no one will notice? If God is calling you to something and you remain silent, God will find another way... but you will miss out on how God wanted to use you for His purpose and lose the reward that would have been yours [6] . And who knows... that could have been your time... you could have been positioned by God for that very purpose!
What is required? - 'If I perish, I perish'
Esther 4:15-17 Then Esther sent this reply to Mordecai: (16) Go, gather together all the Jews who are in Susa, and fast for me. Do not eat or drink for three days, night or day. I and my maids will fast as you do. When this is done, I will go to the king, even though it is against the law. And if I perish, I perish. (17) So Mordecai went away and carried out all of Esther's instructions.
Finally Esther begins to see the depth of the problem and the need to follow Mordecai's instructions no matter what the cost. And it could potentially cost. We shouldn't underestimate the step that Esther took here and so it isn't surprising that all the Jews in Susa are asked to fast for three days concerning Esther's next move. At the end of that time, Esther will do something that was not lawful to do (even for the Queen!) - she will go before the king unannounced. If all goes well, he will extend the golden sceptre to her and she will find favour in his sight. If it all turns to custard she will die. It is a huge step of faith but one she is resolved to do! 'If I perish, I perish' [7] are the words on her lips as she takes each step of the journey.
Conclusion
What does all this mean for us? Well, Jesus said that "If anyone would come after me, he must deny himself and take up his cross and follow me. For whoever wants to save his life will lose it, but whoever loses his life for me will find it.' Your 'cross', that Jesus asked you to take up, is the place in your life where the will of God and your will, cross. That is, where the two wills are in opposition to each other! This was how it was for Esther as her will initially was opposed to the instruction of Mordecai. And that is how it is often for us. So what is required? As shown by Esther, we too must deny our will and obey God's call. Has God been asking something of you lately? Have you obeyed? Can you learn from Esther in this regard who initially dug her toes in but died to her own will so that the plans and purpose of God could be activated through her? I think we all can. Well, in the next study we'll see how things turned out. We'll see whether God would respond to Esther's faith and bring about deliverance or whether things will go downhill very quickly!
---