Habakkuk Bible Study Commentary: The Book of Habakkuk - Then & Now
Habakkuk Chapter 1: God is moving and judgement is coming
by I Gordon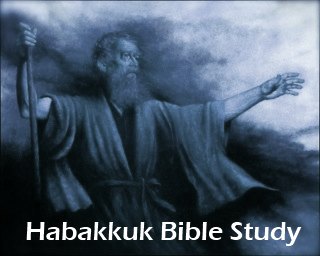 Introduction
Alright... Confession time. When was the last time you have read the book of Habakkuk? Yes. Exactly. I thought so. Well, until recently I was in the same camp because it had been quite a while since I had read this great little book. And I didn't really know what the central message of the book was. So we decided to study it in our home group and I must say that I was very pleased that I did! But let's just back the bus up a little and begin, well, at the beginning.
Little is known of Habakkuk himself. But we do know that his name means 'embracer' and that he was likely to have written his book during the reign of the wicked king Jehoiakim who ruled Judah from 609 - 598BC. As to the message of Habakkuk, it is unique in that it records a conversation between the prophet and His Lord - God Almighty. Ok, it may start off quite high on the 'gloomy' scale (for difficult days ahead were foreseen by the prophet), but it concludes with tremendous hope and expectation that fittingly backs up the central message of the text - that 'The just shall live by his faith'.
Now as I studied this book I couldn't keep thinking how eerily reminiscent the topics of Habakkuk were to the day in which we live. Like, completely. So that is why I have called this study series 'the message of Habakkuk - then and now' for these timeless words of God and His prophet apply equally to today's world and situation as they did for the generation that lived 2600 years ago.
The Puzzled Prophet's Perplexing Problem
Habakkuk 1:1-4 The oracle that Habakkuk the prophet received. How long, O LORD, must I call for help, but you do not listen? Or cry out to you, "Violence!" but you do not save? Why do you make me look at injustice? Why do you tolerate wrong? Destruction and violence are before me; there is strife, and conflict abounds. Therefore the law is paralyzed, and justice never prevails. The wicked hem in the righteous, so that justice is perverted.
Habakkuk was a prophet with a problem. Well, several problems. No, not personal problems like you and I, but perplexing questions that required answers from God. You see, as Habakkuk surveyed the world in which he lived, he saw unbelievable injustice, violence and inequality that never seemed to be judged. And this 'irked' Habakkuk very much [1] . Habakkuk's first question was 'How long God?' 'How long do I cry out without an answer?' 'Why don't you do something?' It is a question we all ask from time to time is it not? It was a question that was asked quite frequently by some of God's 'stars' in the Bible [2] and it is one that you have no doubt asked when faced with extended periods of difficulty and uncertainty [3] .
Now on a national or on a world scale, the same question can be asked. Like Habakkuk surveying the situation in his day, so we too look at the increasing immorality, injustice and violence of ours and say 'How much longer will this go on for?' 'How long Lord before you judge this world?' That was the cry of the souls under the altar in the book of Revelation was it not when they cried out "How long, Sovereign Lord, holy and true, until you judge the inhabitants of the earth and avenge our blood?" ( Rev 6:10 ) . It is a common question indeed asked by the saints of all generations.
The source of injustice in Habakkuk's day
Now let's look at the source of the question. Habakkuk states that '...the law is paralyzed, and justice never prevails. The wicked hem in the righteous, so that justice is perverted.' The source of the problem was the 'paralyzing' of God's law in the days of Habakkuk. [4] Is God's law paralyzed in our day amongst our judicial system? What about in our schools when laws are passed to prevent prayer or study of the Bible in schools (yet the children are forced to learn about Islam, the Koran and other religions under the guise of 'multi-cultural studies')? As Western society moves further from the Christian foundation [5] the result is sadly the same as it was when Israel was departing from God's law in the days of Habakkuk.
'It is time for You to act, O Lord, For they have regarded Your law as void.' ( Psalms 119:126 )
God's answer - Prepare to be amazed!
Habakkuk 1:5-11 Look at the nations and watch-- and be utterly amazed. For I am going to do something in your days that you would not believe, even if you were told. I am raising up the Babylonians, that ruthless and impetuous people , who sweep across the whole earth to seize dwelling places not their own. They are a feared and dreaded people; they are a law to themselves and promote their own honor. Their horses are swifter than leopards, fiercer than wolves at dusk. Their cavalry gallops headlong; their horsemen come from afar. They fly like a vulture swooping to devour; they all come bent on violence. Their hordes advance like a desert wind and gather prisoners like sand. They deride kings and scoff at rulers. They laugh at all fortified cities; they build earthen ramps and capture them. Then they sweep past like the wind and go on-- guilty men, whose own strength is their god."
God's reply is not one that Habakkuk had been expecting. In fact it is a 'blow your socks off' type of answer! Habakkuk thought that God was strangely silent and absent yet the truth was quite the opposite. God told Habakkuk to ' Look at the nations and watch-- and be utterly amazed. For I am going to do something in your days that you would not believe, even if you were told.' The truth was that God was already raisingup the nation of Babylon to come against Judah. And believe me that this was something of a bombshell! Habakkuk knew about the Babylonians. He had heard the stories. He had seen the results. And it is fair to say that to hear God describe them as a 'fierce, ruthless, dreaded, swift, devouring people 'bent on violence' did little to calm the nerves! [6] Yet what puzzled Habakkuk the most was that God was going to use them! Them... of all people! How could God use such a godless nation? Why would He do that? [7]
Before we see Habakkuk's response let's look at these verses as they relate to us today. While God's work in the days of Habakkuk was unthought-of to our prophet, in the last days God is going to do something far more radical. Daniel said that the last days would lead to a 'time of distress such as has not happened from the beginning of nations until then.'( Dan 12:1 ) Echoing this, Jesus spoke also of that time saying that 'there will be great distress, unequaled from the beginning of the world until now-- and never to be equalled again. ( Matt 24:21 ) and 'men's hearts failing them from fear and the expectation of those things which are coming on the earth, for the powers of heaven will be shaken.' ( Luke 21:26 )
Those times are not upon us yet but the shadows and storm clouds of the approaching days can be seen, I believe. So just as Habakkuk was instructed to 'look at the nations and watch' , so we too can see the hand of God working amongst the current upheaval occurring in so many nations of the world. [8] So keep alert! Watch! Habakkuk thought nothing was happening but the invasion and destruction of Judah, once it came, was swift and unexpected upon most.
Habakkuk's Response - Um, We're not going to die. Argh, are we?
Habakkuk 1:12-17 Are You not from everlasting, O LORD, my God, my Holy One? We will not die. You, O LORD, have appointed them to judge; And You, O Rock, have established them to correct. Your eyes are too pure to approve evil, and Youcan not look on wickedness with favor. Why do You look with favor On those who deal treacherously? Why are You silent when the wicked swallow up those more righteous than they? Why have You made men like the fish of the sea, like creeping things without a ruler over them? The Chaldeans bring all of them up with a hook, drag them away with their net, and gather them together in their fishing net. Therefore they rejoice and are glad. Therefore they offer a sacrifice to their net and burn incense to their fishing net; Because through these things their catch is large, and their food is plentiful. Will they therefore empty their net and continually slay nations without sparing?
If we thought that Habakkuk had a problem earlier (when he thought God wasn't doing anything), after hearing God's response he really has a problem now! As He dwells on what Babylon has done to other nations he likens them to a large net that catches and drags all men away without mercy. And this is who God is going to use? As he mulls this over our good prophet struggles with two main issues:
How could a pure, holy God, approve and use those that are wicked?
How could God judge Judah using a nation that was more wicked than they? [9]
Following on from footnote 9, to update Habakkuk's questions to a modern example would be like someone in Europe or America crying out to God about the state of the Church and God replying 'I have seen it's state and I'm raising up Islam to use as a judgement against my people'. Not exactly what we would like to hear but it has Biblical precedent. [10]
As Habakkuk processes what he has heard, he rightly reminds God of the eternal promises made to the nation of Israel that they would not be cut of completely even though he understands that Judah requires judgement and correction. And thank God that He is always faithful to His promises. When it comes to His own people to whom He has given His promises, even in judgement He will remember mercy (Hab 3:2).
Conclusion
This chapter started with the puzzled prophet asking God why He isn't doing anything and ends, after God tells him what He is doing, with Habakkuk shocked at what God is going to do! You just can't please some people! Yet even Habakkuk's latest question will be answered for in Chapter 2 God outlines clearly why this judgement must come. And as we will hopefully see, it is a chapter that could have been written a month ago about our own world. And yet it is also a chapter that gives hope as it outlines that the righteous MUST live by faith in this difficult age and that yet, one day, the whole world will be FILLED with the KNOWLEDGE and GLORY of God.
---