Bible Study Commentary: Book of Ruth Chapter 1
Ruth Chapter 1: Counting the Cost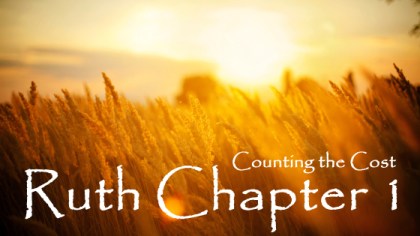 by I Gordon
' Doth that man love his Lord who would be willing to see Jesus wearing a crown of thorns, while for himself he craves a chaplet of laurel? Shall Jesus ascend to his throne by the cross, and do we expect to be carried there on the shoulders of applauding crowds? Be not so vain in your imagination. Count you the cost, and if you're not willing to bear Christ's cross, go away to your farm and to your merchandise, and make the most of them. Only let me whisper this in your ear, 'What shall it profit a man if he gain the whole world and lose his own soul?' Charles Spurgeon
Introduction
Interesting book Ruth. It's an amazing story of commitment and dedication, trials and testing, deliverance and freedom. It's got it all - well, apart from a nasty villain but we can't ask for everything. Yet like other historical books in the Old Testament, I believe that the Holy Spirit has placed this book within the Bible for more than historical benefit. He has placed within the characters and story line, key elements and pictures that teach us today about our relationship with the true redeemer, Jesus Christ. Each of the four chapters gives us a glimpse of the progressive stages in our walk with the Lord as you can hopefully see through the following chapter names:
Chapter 1 - Counting the cost
Chapter 2 - Growing in grace
Chapter 3 - Rewards through refining
Chapter 4 - Fruits of freedom
As we enter into chapter 1, we see an interesting picture involving three different women. In Naomi, Ruth and Orpah we see a backslider, a new convert and a double-minded woman and from their lives we can learn about the following things -
- The perils of worldliness and sin
- The importance of preaching a 'real' gospel
- The steps of the prodigal in returning to the Lord
- The cost involved in following the Lord
What do you do in a time of famine?
1:1-2 Now it came about in the days when the judges governed, that there was a famine in the land. And a certain man of Bethlehem in Judah went to sojourn in the land of Moab with his wife and his two sons. And the name of the man was Elimelech, and the name of his wife, Naomi; and the names of his two sons were Mahlon and Chilion, Ephrathites of Bethlehem in Judah. Now they entered the land of Moab and remained there.
The book of Ruth starts then, in the days of the judges [1] , and in a time
of famine [2] . Elimelech and his wife Naomi are living in Israel, Gods chosen land, yet we read that their eyes began looking to the prosperity in the world. Ever been there? The picture for us is clear and its one that we see often. It's a picture of the Christian who, when times get hard, looks not to God but to what the world can provide. Ever been in that kind of famine? One where God doesn't seem to care or notice the difficulty you are in and your thoughts turn to the provision and pleasure offered by the world? No? You will. God allows us into these situations to teach us that we live by faith and not by sight. Elimelech and Naomi were in such a situation and faced with running or trusting God, they chose the former and worse of the two options. It was a decision that would ultimately cost Elimelech and his two sons their lives. For we read that they left Bethlehem (which means 'the place of bread') in Judah ('praise') to go to Moab (which means 'from father: what father?') and in the meaning of Moab you gain an insight into Elimelech's state of mind. As he doubts the love and fatherhood of God he steps out in willful disobedience to the word of God [3] , striving forth in his own strength. Not that Elimelech had decided to take his family away from the land of Israel permanently. No way! This was only going to be a 'sojourn' - which means a brief stay. Not a great rebellion against God, but just a little dabble for a season in another land. Nothing wrong with that is there? [4]
The little sojourn that wasn't!
1:3-5 Then Elimelech, Naomi's husband, died; and she was left with her two sons. And they took for themselves Moabite women as wives; the name of the one was Orpah and the name of the other Ruth. And they lived there about ten years. Then both Mahlon and Chilion also died; and the woman was bereft of her two children and her husband.
Ten years! He probably thought he would go for a little sojourn to enjoy Moab for a season yet he never came out! What's more it took his wife ten years to see that Moab promised much but delivered nothing [5] . Those who leave the Lord today find the same thing. Though the world promises fame, fortune and happiness [6] , nothing can come near the peace and hope that comes from knowing that you are right with the Lord. The prodigal son had to learn this the hard way, and once the money ran out he soon found himself lunching with pigs! Nope, Moab only produces death and its no coincidence that we read that Mahlon (sickly) and Chilion (pining) also meet their end there. We are however introduced to two new characters in Ruth (friendship) and Orpah (stiff-necked). Both of these ladies are well named, as we shall soon see.
Would you turn to God and count the cost?
1:6-10 Then she arose with her daughters-in-law that she might return from the land of Moab, for she had heard in the land of Moab that the Lord had visited His people in giving them food. So she departed from the place where she was, and her two daughters-in-law with her; and they went on the way to return to the land of Judah. And Naomi said to her two daughters-in-law, 'Go, return each of you to her mother's house. May the Lord deal kindly with you as you have dealt with the dead and with me. 'May the Lord grant that you may find rest, each in the house of her husband.' Then she kissed them, and they lifted up their voices and wept. And they said to her, 'No, but we will surely return with you to your people.'
Finally a good decision is made. They are coming home for the Lord had visited his people in giving them food! That's the truth! Though He had seemed far away and His provision was slow in coming (through human eyes) yet he had been aware all along of their situation and did provide when the time was right. We need to learn from this. Naomi did and we see her now, like the prodigal, ready to return home [7] . It may have taken ten years but she had to return. If you have been a Christian long enough, you have no doubt seen those that have fallen away and gone back to Egypt so to speak. But I also think that if you have been a Christian even longer, you would have seen the true believers return from Egypt to God. That is always the nature of the true prodigal son [8] . Here, God had bought her to the place where, stripped of her natural support, she would once again turn and look to the Lord God of Israel. Yet not alone, as both of her daughters in law respond to her by saying 'we will surely return with you to your people.' Wow! - two new gentile converts right? Um, half right.
Preaching the true Gospel
1:11-13 But Naomi said, 'Return, my daughters. Why should you go with me? Have I yet sons in my womb, that they may be your husbands? 'Return, my daughters! Go, for I am too old to have a husband. If I said I have hope, if I should even have a husband tonight and also bear sons, would you therefore wait until they were grown? Would you therefore refrain from marrying? No, my daughters; for it is harder for me than for you, for the hand of the Lord has gone forth against me.'
Arrrggghh Naomi! Why didn't she just tell them that if you come back to Israel and the God of Israel then all their problems would be gone and everything would be coming up roses? Isn't that what you say to people who are interested in coming to the Lord? Doesn't it go something like 'Gods loves you and wants to bless you. Ask him into your life and he will sort out your problems!' Isn't that what it means to share the gospel? Not likely! What Naomi did was tell them the truth and gave them the opportunity to count the cost of having the Lord God of Israel as their God. Jesus expects nothing less [9] .
True and false 'conversions'
1:14-18 And they lifted up their voices and wept again; and Orpah kissed her mother-in-law, but Ruth clung to her. Then she said, 'Behold, your sister-in-law has gone back to her people and her gods; return after your sister-in-law.' But Ruth said, 'Do not urge me to leave you or turn back from following you; for where you go, I will go, and where you lodge, I will lodge. Your people shall be my people, and your God, my God. 'Where you die, I will die, and there I will be buried. Thus may the Lord do to me, and worse, if anything but death parts you and me.' When she saw that she was determined to go with her, she said no more to her.
Orpah left. Decided it wasn't for her! She had promised to come back with Naomi earlier but when she learnt of what it may be like she decided to do the 180 degrees and go back to her own people. And sadly this is what happens with many so-called Christians today. They come to the Lord (well, they come to the front of the stage) but where are they a few days later? No one ever sees them again. Or they may stay for a while, springing up quickly like the word says, yet when persecution or hardship comes they leave the faith for a life more comfortable (Matt 13:3-9, 20-21). But not our Ruth. In Ruth we have an awesome picture of a true conversion. Even when others are leaving around her Ruth states in utter dedication and commitment 'Do not urge me to leave you or turn back from following you; for where you go, I will go, and where you lodge, I will lodge. Your people shall be my people, and your God, my God. 'Where you die, I will die, and there I will be buried. Thus may the Lord do to me, and worse, if anything but death parts you and me.' That has got to be one of the greatest utterances of commitment in the entire Old Testament! Having counted the cost Ruth was willing to give up all that she knew and loved to follow Naomi, and Naomis' God. [10] What is the quality of the commitment that Jesus asks of us today? Notice I didn't ask about the quantity of our commitment, but the quality. This is what Jesus is interested in. Jesus said that those that want to follow Him must take up their cross. So what does it mean to carry your cross? Obviously it speaks of death. Not many endured the cross and lived! Well, none actually. But death to what? Two things come to mind - death to your right to control your own life and death to your own ability to live the Christian life [11] . We will see both of these attitudes displayed further in the book of Ruth. This is the 'quality' commitment to the Lord Jesus that He requires.
When Miss Pleasant becomes Miss Bitter - Though hope remains!
Vs 19-22 So they both went until they came to Bethlehem. And it came about when they had come to Bethlehem, that all the city was stirred because of them, and the women said, 'Is this Naomi?' And she said to them, 'Do not call me Naomi; call me Mara, for the Almighty has dealt very bitterly with me.'I went out full, but the Lord has brought me back empty. Why do you call me Naomi, since the Lord has witnessed against me and the Almighty has afflicted me?' So Naomi returned, and with her Ruth the Moabitess, her daughter-in-law, who returned from the land of Moab. And they came to Bethlehem at the beginning of barley harvest.
So they make it back to Bethlehem but Naomi (which means 'pleasant') doesn't want to be called that anymore. She prefers to now be called Mara, which means 'bitter'. Nice name! We can understand her sorrow for she has lost both her husband and her sons but there is no point in blaming God! It's a hard lesson to learn that backsliding and running off to the world never produces anything but death and though the Lord has called her back, yet she comes back empty handed. It's the same for us. We can never expect to bring back anything productive from our sojourn into Moab! If we are true sons of God then the Lord will bring us back to Himself, but its not usually pleasant. Above all things, the Lord desires a relationship with us and his chastening and discipline, Hebrews tells us, is for our good because He loves us. (Heb 12:5-11). Naomi may have come back empty and in bitterness, but that is not how things would end. Having returned she would once again soon see the blessing of the Lord. It is also appropriate that they should return at the beginning of the barley season, as this was the season of firstfruits [12] . Though bitter they would soon see new life! We shall continue with their story in Ruth chapter 2.
---